Critical
Care

& Monitoring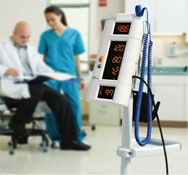 The SunTech® 247™ Diagnostic Station provides both an affordable replacement for mechanical gauges and mercury sphygmomanometers and the potential of a vital signs device without the expense. With our modular design, start with blood pressure and add other parameters such as temperature and SpO2 when needed. Additionally, the SunTech 247 comes in a variety of mounting options so you can use it wherever, whenever and however you like.
The Oscar 2™ ABPM system from SunTech Medical®, Inc. has been designed with both the clinician and patient in mind offering a simple, reliable and affordable solution for 24-hour blood pressure monitoring. The Oscar 2 monitor interfaces with AccuWin Pro software for quick programming, data retrieval, and report generation.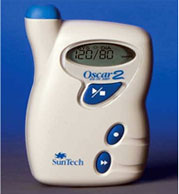 Oscar 2 is the most clinically validated ambulatory blood pressure monitor available and combined with unmatched service and support from SunTech Medical, the Oscar 2 has quickly become the new standard in ABPM.
The Oscar 2 is clinically validated to all three internationally recognized standards.

» British Hypertension Society1 (A/A)
» European Society of Hypertension International Protocol2
» AAMI SP103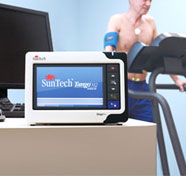 Suntech Medical provides affordable, high quality cuffs which complements the world's best blood pressure devices. Ease of use, patient comfort, and accurate reliable readings are the hallmark of each SunTech® blood pressure cuff design.
SunTech Blood Pressure Cuffs use innovative designs to provide:
Unsurpassed comfort for the patient.
Simple application and connection processes.
Consistent and accurate measurements in a wide variety of environments.
SunTech Medical's line of blood pressure cuffs includes:
All Purpose Cuff ranging from infant to thigh sizes, this easy-to-clean high quality nylon cuff is appropriate for a wide variety of clinical applications.
Eclipse™ D-Ring Cuff perfect for home-use applications or when proper cuff positioning is vital.
Orbit™ Cuff uniquely designed to provide patient comfort and thus promote patient compliance during extended Ambulatory BP Monitoring (ABPM).
Orbit-K™ Cuff designed to ensure accurate readings during stress and exercise testing as part of SunTech's Tango®+ Stress BP monitor.
All SunTech cuffs are latex and PVC free, featuring easily removable bladders to aid in washing and disinfecting, are in compliance with Council Directive 93/42/EEC Medical Devices Directive, and adhere to the recommendations in the AAMI SP10:2002.